The Chevrolet Corvette C5 Z06 is a high performance car manufactured by Chevrolet between the years 2001-2004. The C5 Z06 made its debut in the year 2001 as the predecessor of C4 ZR-1
Engine
The Z06 contains a 5.7 L LS6 V8 engine with 6-speed manual transmission that delivers 12% more output compared to the previous LS1 engine. It produces an output power of 405 hp at 6000 rpm and delivers 400 lb-ft torque at 4800 rpm. The engine also makes use of aluminum block for allowing better breathing.
LS1 pistons have been used in the engine which is more durable and stronger. The cylinder heads have been shed with combustion chambers that provide a better compression ratio and results in increased thermal efficiency, power and volumetric efficiency.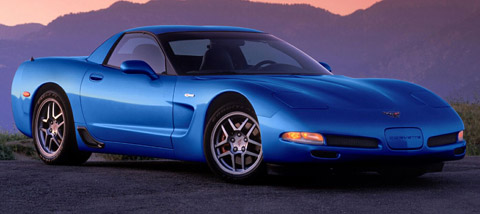 Sensors:
Yaw-Rate Sensor
This sensor is situated in the center console which makes use of couple of tuning forks in calculating the vehicles center of gravity. This information is fed to cars processor and the yaw rate is being contrast with the steering angle.
Steering Angle Sensor
This sensor is situated in the steering wheel column. The sensor examines the steering inputs and corresponds with the steering wheel angle; the system is very accurate with a single change in degree.
Lateral Acceleration Sensor
This sensor is situated below the traveler's seat and calculates the centrifugal force during the turns.
Suspension
The FE4 suspension has been used, which has been specially designed for the Z06. It makes use of front stabilizer bar, shock calibrations and rear leaf spring.
Wheels and tires
A wider wheels and tires are used in the Z06 for better gripping. The wheels are painted in gray metallic which uses red brake calipers and contains "crossed flags" emblem in the center cap of the rim. The "Goodyear" tires are used which are specially designed for the Z06. These types of tires are used in the high performance vehicles and can be seen in the Ford GT.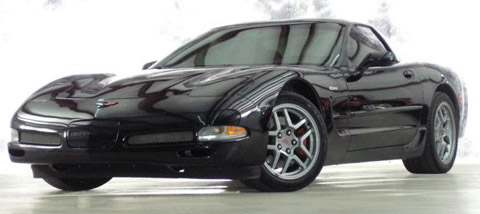 Specifications
Vehicle Type: - hardtop car, with two doors
Configuration: - Front Engine
Engine: - 5.7 L LS6 V8
Torque: - 400 lb-ft@ 4800 rpm
Horsepower: - 405 bhp @ 6000 rpm
Transmission: - 6-speed Manual
Wheelbase: - 104.5 in
Length: - 179.7 in
Width: - 73.6 in
Height: - 47.7 in
Weight: - 3,115 lb
0-60 mph: - 3.9 sec
0-100mph: - 9.2 sec
Top speed: - 186 mph