The 1962 Chevrolet Corvette C1-RS by Roadster Shop won the award of the 2009 Street Machine of the Year for many good reasons.
The original idea that Roadster shop owner Jeremy Gerber and his customer Barry Blomquist had was to transform the 1962 Chevrolet Corvette into the kind of modern concept car that General Motors would be likely to produce today.
The unique name "C1-RS" represents the first generation of Corvettes (C1) and the name of the creator, the Roadster Shop (RS). It was a revolutionary undertaking, and the results impressed everyone.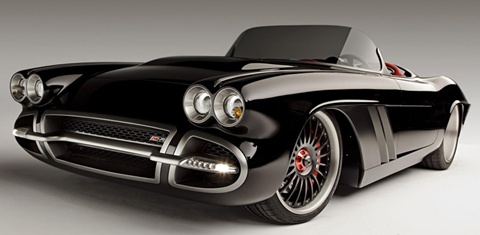 Modifications
Under the hood of the 1962 Chevrolet Corvette C1-RS by Roadster Shop includes: a high performance LS7 seven liter V8 engine designed by Turn Key Engine Supply; a Tremec T-56 Custom transmission made by Bowler Performance Transmission; and a Kinsler Cross Ram EFI injection system.
Other modifications made on the Chevrolet Corvette C1-RS are a custom built stainless steel exhaust muffler, supporting a three inch diameter exhaust pipe; specialty hand fabricated aluminum gauges by Classic Instruments; and the entire chassis carefully sculpted using a 10 gauge steel frame.
Unique Concept
The unique look of the 1962 Chevrolet Corvette C1-RS by Roadster Shop was achieved by several key external modifications. The original convertible top of the car was removed to turn it into a real roadster model, and the windshield was leaned back and cut in such a way as to give a more aggressive, edgy look to the new Corvette.

Porsche 997 running lights and a complementary aluminum grille bar add to the sporty design. A carefully customized rear lip spoiler extends the natural lines of the car from the rear wheels all the way to the back tip of the car, further accentuating the sleek shape.
The tail light panel was also uniquely created in carbon fiber by Prototype Composites of Milwaukee, Wisconsin. The hand fabricated aluminum arches behind the two seats were made to further enhance the car's sporty nature. As a result, the 1962 Chevrolet Corvette C1-RS by Roadster Shop transforms a classic into a modern muscle car.