The 2008 Caterham Superlight R500 from the British sport scar manufacturer takes the minimalist light weight Seven philosophy to a new level with more power and sharper handling. The R500 Weighs 506kg and produces 263bhp with a heaving 177 lb per ft of torque transmitted to the rear wheels. The Series 3 chassis flagship model blasts out 520bhp per tonne and is capable of propelling itself from 0 to 60mph in 2.88 seconds.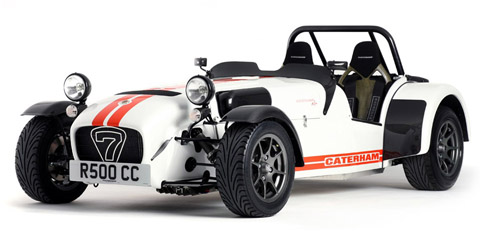 Lurking under the light weight bonnet is the all alloy 2.0 liter Ford Duratec engine. Fed by its roller barrel throttle bodies, the normally aspirated, four-cylinder mill is tuned by Caterham Powertrain to unleash a monster. The continuous acceleration is transmitted through each ratio by either the standard 6-speed gearbox or the optional Caterham Motorsport engineered sequential transmission.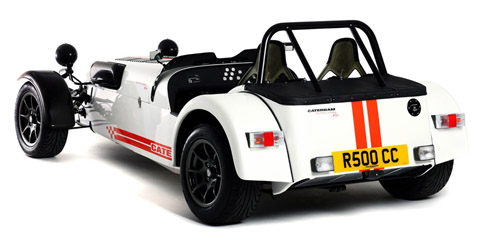 The performance of the R500 is controlled by race developed Avon CR500 tires and a suspension set up that includes weight reducing aero wishbones and fully adjustable dampers. Bringing the R500 to a steady halt is the four piston calipers clamping on vented discs at the front and light weight twin piston rear calipers. The new performance upgrades for the R500 include a sequential transmission, launch control, a gulping Carbon Induction Airbox and Eibach Springs and dampers derived from the Caterham C400 race series.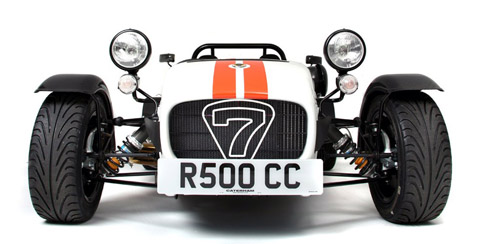 Housed within the modified chassis is keyless ignition, a quick release Momo steering wheel with integrated indicator switches and an innovative dashboard featuring flush fitted switchgear, ACES sequential gear change lights and a new Stack display with scrolling text. The 2008 Caterham superlight R500 is on sale from a starting price of £36,995.