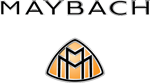 Maybach-Motorenbau GmbH, or simply Maybach, is a known manufacturer of luxury cars headquartered in Stuttgart, Germany. Its origin traces back to prewar times; it was founded in 1909 by Wilhelm Maybach, from whom it got its name, and originally was a supplier of diesel and gas engines and then rail cars of the Zeppelins.
Post-revival Maybach vehicles are the 57 and 62 both released in 2002, the Exelero and the 57S introduced in 2005, the 62S in 2006, the 62 Laudalet in 2007, and the 52 Zeppelin and 62 Zeppelin in 2009. The acceleration of Maybach cars may not be impressive by today's sports-car standards, but when the fact that these cars weigh more than 6000 lbs, the figures become really notable. The 57 reaches 60 mph in 5.1 seconds; the 62 and 57 S, 48 seconds; the 62 S, 4.5 seconds, and the Laudalet, also 4.5 seconds. Maybach cars are also marked by power. The 57 is capable of 518 bhp; the 57 S, 599 bhp; the 62, 570 bhp; the 62 S, 612 bhp, and the Laudalet, with 633 bhp.
One of the reasons that Maybach cars are still popular in the market is their continuing cater to what the public needs and wants. The company offers a wide a range of choices in personalizing vehicles and more than enough options for equipment combination.