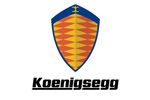 For someone who seeks hell raising speed packaged in a sleek design, a Koenigsegg car is often a breathtaking temptation.
Established in 1994 by Christian von Koenigsegg, the Koenigsegg Automotive AB is a leading company in the production of high-performance sports cars. The company is based in Ängelholm, a locality in Skåne County, Sweden, and since the release of its first street-legal car in 2002, Koenigsegg has been involved not only in developing and manufacturing supercars, but also in development programs on flex fuel, plug-in electric cars' system and next-generation combustion engines.
This kind of technology which is advanced in many ways led to the existence of Koenigsegg CCX. Marked with a speed that reaches up to 245 mph, twin superchargers that just hang around behind the passenger compartment and a bhp of 806 to achieve a whopping 62 mph in only 3.2 seconds.