The formal announcement of the 2014 BMW 5-Series Touring introduces a new and revised model that comes with several improvements over its predecessor.
For 2014, BMW has prepared more engine options, a redefined body design that features subtle changes to the exterior, and enhancements to the interior.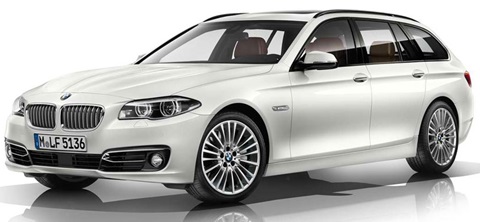 Engine
The most noticeable changes comes under the hood. BMW added additional options such as the new four cylinder diesel engine that brings you 143 horsepower. Average fuel consumption has been measured around 62.8 mpg and carbon emissions capped at 191 grams per mile.
The top of the line will feature a V8 engine that brings an over the top 450 horsepower that can be found in the 550i version.
Performance
Despite having an improved design that hits the road like a sports car, the 5-Series Touring rides and handles almost the same as its predecessor.
Road stability and grip is secured by the all-wheel drive and the improved aerodynamics and air intake makes it easier to control during tight corners or at high speeds.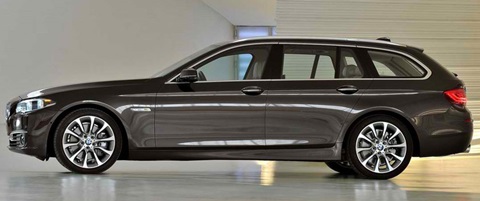 Exterior
BMW worked on the exterior, adding new contour lines to the grill and a new lower air intake. The rear of the car now has an extra crease placed in the apron and redesigned tail lights.
Also new to the series is the integration of side indicators into the mirrors. Additionally, the German manufacturer offer two design packages.
Interior
The interior is nearly identical when compared with the previous edition. BMW did add some design elements such as a chrome trim around the control display and other minor touches. Not all trim elements will be available in the standard version but you can pick and choose which additional design elements you want included.
The German manufacturer worked on the 2014 BMW 5-Series Touring model to update it according to the new trends, focusing on fuel efficient engines and comfort.
From a design perspective, BMW added minor touches to the exterior and interior but sufficient to distinguish it from earlier models.