The 2012 BMW i8 Concept Spyder is a two-seater, open-top hybrid designed to appeal to sports car enthusiasts.
Its innovative, lightweight construction, coupled with a powerful hybrid engine, that delivers a striking performance and impressive fuel efficiency.
In fact, the combined power output of the electric and gas engines are capable of generating 354 horsepower and 306 pounds-feet of torque.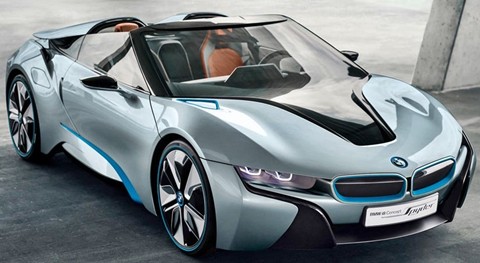 Performance
The electric motor is fed by lithium-ion battery cells, and can be fully charged from a standard domestic power supply in under two hours. This motor is used to drive the front axle, while the gas powered motor drives the rear axle.
The car can travel up to 19 miles on electric power alone, ideal for city driving. An optional alternator can be linked to the gas engine to provide continuous charging to the electric motor, making the car an extended range hybrid.
Powerful Combination
The electric motor provides 131 horsepower, and the gas-powered engine can produce 223 horsepower. Between them, they are capable of bringing the Concept Spyder from 0 to 60 mph in less than five seconds. While clearly not lacking in power, the combined motors deliver remarkable fuel efficiency. The Spyder is capable of an amazing 113 mpg.
Because the two engines separately power the two axles, the car has the ability to deliver drive power through the front wheels, the rear wheels or through all four at the same time. The onboard computer manages optimum drive power automatically.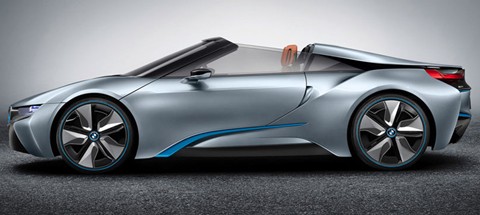 Interior
The instrument cluster features a digital speedometer and displays several streams of data to allow the driver monitor all aspects of the car's performance, such as fuel consumption and remaining electrical power. The display changes colors to reflect the various modes that the driver can select. These modes are standard, ECO PRO for maximum fuel efficiency, and Sport.
The 2012 BMW i8 Concept Spyder is also equipped with a comprehensive range of modern electronic systems that control in-car entertainment, traffic and weather information, parking assistance, collision warning, and navigation aids.
Specifications
General Info

| | |
| --- | --- |
| Vehicle Type: Hybrid Sports Coupe | Est. Market Price: NA |
Performance

| | |
| --- | --- |
| Engine: 3 Cylinder Hybrid | Aspiration: Turbocharged |
| Horsepower: 223 HP | Torque: 406 lb-ft |
| Electric Motor: 96 kW | Horsepower: 131 HP |
| 0-60 mph: 5.0 seconds | Top Speed: 155 mph (250 km/h) |