The 2011 MWDesign BMW Z4 White Flame, just like its predecessor, the BMW Z4 Slingshot, is inspired by another golf club. This time it is the Taylor-made R-11 driver that lent its color theme to the new Z4 although in a slightly subtle fashion, thus maintaining the car's clean and sleek exterior.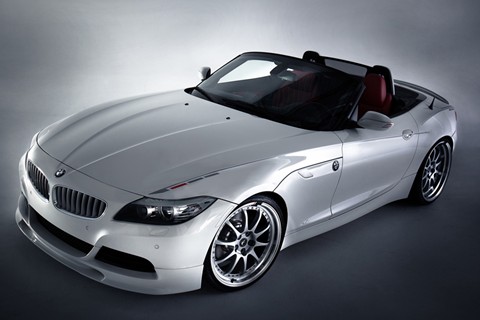 MWDesign fitted the Z4 White Flame with a new polyester front lip spoiler and 20" Forgester F10 wheels. These come in silver with polished outer lips and center caps of carbon fiber.
In terms of performance, a handsome upgrade was made by including a MIlltek 2x100mm Catback Exhaust System that was powder-coated for a ceramic-like finish. This perfectly complements the extensive aesthetic job on the Z4. Aside from the exhaust system upgrade, the power output was boosted from 300hp to 400hp making it a lot more powerful than the Slingshot. However, the Slingshot can be fitted with STETT's FMIC intercooler that can considerably increase its power to 620hp.
The BMW Z4 White Flame is a one-off car which means that it was manufactured exclusively for one client only. This particular car was made for a friend of the company. As such, no pricing is provided. Suffice it to say, not too many people can afford a one-off car.