The 1999 Bentley Hunaudieres Concept is a four door luxury car and also one of the high performance cars made by Bentley.
The body of the Bentley Hunaudieres is made of carbon fiber and the car features muscular and sporty looks.
The Bentley Hunaudieres features W16 engine with 64 valves, the bore measures 84 mm and the stroke measures 90.3 mm. The capacity of the engine is 8004 cc and it delivers an output power of 623 bhp at 6000 rpm and 561 lb-ft torque at 4000 rpm. The top speed in the Bentley Hunaudieres is about 217.5 mph.
The Bentley Hunaudieres features five speed manual transmission and the gear shifts can be done easily and quickly at higher speeds. The Bentley Hunaudieres features 20-inch alloy wheels and the front tires measure 265/30 and the rear tires measure 335/30.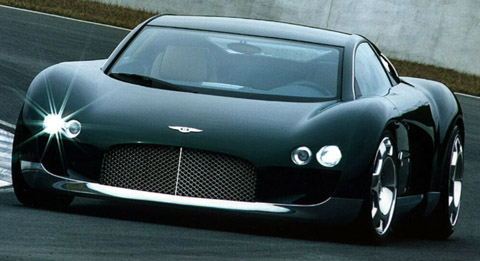 Specifications
Vehicle Type: - 4-door Luxury car
Configuration: - Mid Engine
Engine: - W16
Capacity: - 8004 cc
Torque: - 561 lb-ft at 4000 rpm
Horsepower: - 623 bhp at 6000 rpm
Transmission: - 5-speed Manual
Length: - 174.5 inches
Width: - 78.1 inches
Height: - 46.9 inches
Top speed: - 217.5 mph