The Bentley Continental GT is a high performance luxury car first created in 2003.
The body of the Continental GT is made of made of aluminum and the front subframe is made of stainless steel, as a result, the car features strong bodywork. The car features the latest technology features which include Data Control Mode, CAD programs and Bosch Electronic Stability Program.

The Continental GT features W12 engine with a capacity of 5998 cc. The engine features KKK turbochargers and it delivers an output power of 552 bhp at 6100 rpm and 480 lb-ft torque at 1600 rpm. The Continental GT reaches the speed of 60 mph in 4.7 seconds and the top speed is about 198 mph.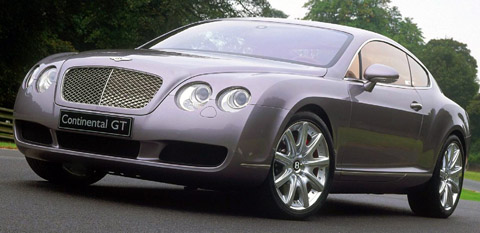 The Continental GT features specially designed six speed semi-automatic transmissions and the gear shifts can be done easily at higher speeds and loads.
The Continental GT features 19-inch wheels with specially designed ventilated disc brakes and features Emergency Brake Force Distribution and Bosch anti-lock braking system for better handling and gripping of the car at higher speeds. The safety features in the car includes the seat belts and the air bags.
The exteriors feature the cars stylish body structure, mirrors and headlights. The interior design in the car is a highlight which features the large luggage space of 335 liters, stylish steering wheel which features the music and cruise controls. The other interior features include the air conditioning system, navigation system, audio system and the stylish seats.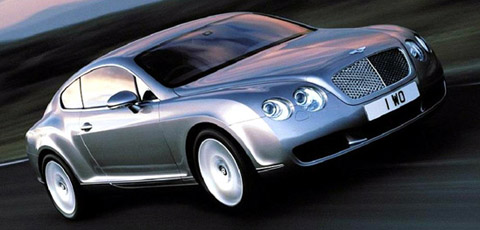 Specifications
Vehicle Type: - 2-door Coupe
Configuration: - Front engine
Engine: - W12
Capacity: - 5998 cc
Torque: - 480 lb-ft at 1600 rpm
Horsepower: - 552 bhp at 6100 rpm
Transmission: - 6-Speed Semi-Automatic
Wheelbase: - 108.1 inches
Length: - 189.1 inches
Width: - 75.5 inches
Height: - 54.7 inches
Weight: - 5071 lbs
0-60 mph: - 4.7 sec
Top speed: - 198 mph
Price: - $149,000
Bentley Continental GT Test Drive on the Track