The 2005 Bentley Arnage R is a high performance luxury car which is available in 40 different colors.
The Bentley Arnage R consists of a 6.75 liter V8 engine with a capacity of 6750 cc. The engine delivers an output power of 400 bhp at 4000 rpm and 616 lb-ft torque at 3250 rpm. The Bentley Arnage R reaches the speed of 60 mph in 5.9 seconds and the top speed is 155 mph. It features a 4-speed Automatic transmission and the gear shifts can be performed easily and smoothly even at higher loads.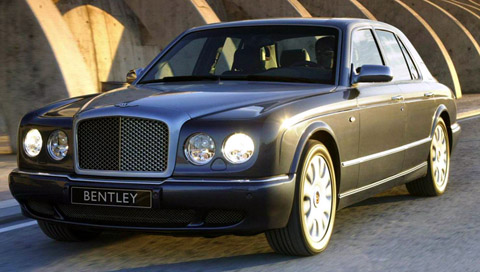 The exteriors features the headlamps, new bonnet, xenon bulbs, vaned radiator grille and the 18-inch 12 spoke alloy wheels. The interiors features the electric windows, DVD based navigation system, audio system, ash tray, stylish dashboard, electric seats, ventilation system and climate control system.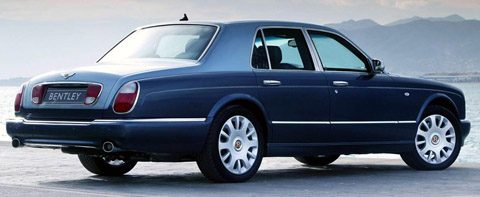 Specifications
Vehicle Type: - 4-door Luxury car
Configuration: - Front Engine/RWD
Engine: - 6.75 liter V8
Capacity: - 6750 cc
Torque: - 616 lb-ft at 3250 rpm
Horsepower: - 400 bhp at 4000 rpm
Transmission: - 4-Speed Automatic
Weight: - 5699 lb
0-62 mph: - 5.9 sec
Top speed: - 155 mph