People overlook the Audi TT RS because of the powerful and widely advertised R8. The team at the FolienCenter-NRW wanted to highlight on the Audi TT RS.
The 2013 FolienCenter-NRW Audi TT RS proves that this automobile is a sports car worth a second look. Although FolienCenter-NRW is known for their car wraps, they did a little more to improve on the Audi TT RS, giving it an engine upgrade which makes it the most powerful TT RS out there.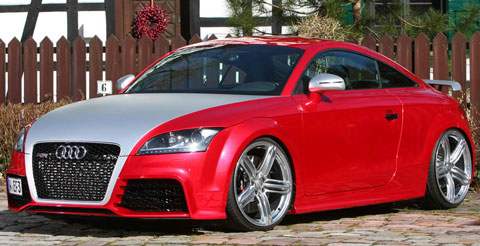 Specifications
General Info

| | |
| --- | --- |
| Vehicle Type: Super Sport Coupe | Est. Market Price: $56,850 |
| Fuel Tank Capacity: 15.9 gals** (60 L) | MPG: NA |
Dimensions**

| | |
| --- | --- |
| Length: 165.3 in. (419.8 cm) | Wheelbase: 97.2 in. (246.8 cm) |
| Height: 53.0 in. (134.8 cm) | Width: 72.5 in. (184.2 cm) |
| Curb Weight: 3306 lbs (1500 kg) | Ground Clearance: NA |
| Luggage Capacity: 13.1 cu ft | Maximum Seating: 2+2 |
Performance

| | |
| --- | --- |
| Engine: Inline 5 Turbo | Displacement: 2.5 Liter |
| Horsepower: 501 HP | Max RPM: NA |
| Torque: 415 lb-ft | Transmission: 6-Speed Manual AWD |
| 0-60 mph: 3.6 seconds | Top Speed: 199 mph (320 km/h) |
**Audi TT RS stock specifications
Engine & Performance
Performance-wise, there is nothing to complain about with the TT RS. The FolienCenter-NRW team took the coupe's 2.5 L engine and added LOBA motorsports components ( an LO500P turbo charger, charge air inter-cooler, fuel pump) into the mix.
The results under the hood delivers 501 horsepower and 415 pound-feet of torque. This improved engine has a top speed of 199 mph. The FolienCenter-NRW's TT RS can hit 62 mph from zero in just 3.6 seconds.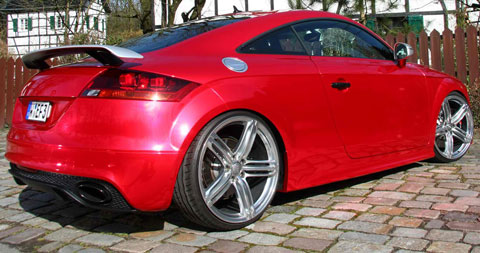 Exterior
The FolienCenter-NRW team also gave the Audi TT RS a glossy chromium red color that contrasts well with a matte-silver hood. The TT RS, like any other Audi, already looks sexy as it is. But, with the added enhancements, an already attractive car is made even more eye-catching with the stand-out paint job.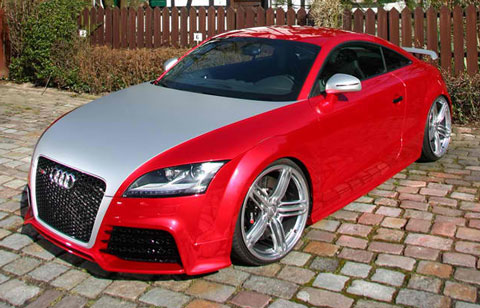 Many people say that the Audi TT RS is an impressive sports car that delivers more than is expected. You will appreciate the car more you sit behind the wheel.
Out of the factory, the Audi TT RS is already an impressive sports car. The folks at FolienCenter-NRW just gave it a little extra. Although they did not release an official price for the modifications, the base price of an Audi TT RS is at $56,850.