The 2013 Audi RS4 Avant is a stylish estate car that includes a lot of sporty features. It is not the roomiest estate in its class, but there is plenty of cargo space available by folding down the seats.
Lack of cargo space is unlikely to be a problem since this car is going to appeal more for its impressive performance than its carrying capacity.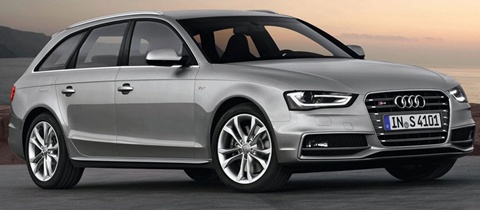 Performance
The RS4 Avant is shipped with Audi's own powerful 4.2-liter, V8 engine. The engine can generate up to 450 horsepower and 317 pounds-feet of torque, meaning that this car has plenty of power when needed, capable of doing 0-62 mph in just under 5 seconds. Top speed is a self-limited 155 mph.
The engine is built specifically to work with a seven speed transmission and Audi's Quattro system for delivering power to all wheels. Because of this, the high power is achieved while still managing to deliver very impressive fuel performance. The RS4 can manage up to 21 mpg on combined highway/city journeys.
AWD Transmission
The S tronic transmission can be set to operate either fully automatically or in manual mode. Manual shifting is possible via the standard shift lever, or via paddles mounted on the steering wheel.
The all-wheel drive operation is handled automatically, with the car transferring differential power to the axles and wheels as necessary. In standard driving conditions, more power is delivered to the rear wheels, adding to the sporty handling and feel.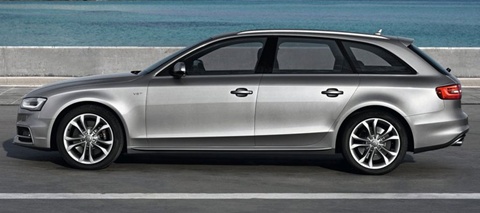 Exterior & Interior
Sticking to the sporty theme, black is the predominant color in the car's interior, and there is a minimalist approach to dials and controls on the dashboard. Externally, there are some changes from the parent A4 model.
The 2013 Audi RS4 Avant sits slightly lower to the ground, has a sportier grille, bigger air intakes, and twin oval-shaped tailpipes. The clever use of both grooves and raised bars on the body, combined with the alloy wheels, adds to the sporty appearance of the car.
Specifications
General Info

| | |
| --- | --- |
| Vehicle Type: Wagon | Base Price: NA |
Performance

| | |
| --- | --- |
| Engine: V8 FSI DOHC | Displacement: 4.2 Liter |
| Horsepower: 443 HP | Max RPM: 8250 RPM |
| Torque: 317 lb-ft @ 4000-6000 rpm | Transmission: 7-Speed S Tronic |
| 0-60 mph: 4.7 seconds | Maximum Speed: 174 mph (280 km/h) |