Aston Martin has just celebrated its 50th Anniversary, and is proud to introduce the 2013 Aston Martin V12 Zagato.
Inspired by the years that were spent by the company, they are back to entice car enthusiasts from all over the world.
The new V12 Zagato is a celebration of Aston Martin's heritage and the future. This was delivered by the CEO of the company who is proud to announce that this new Aston Martin will be in production later this year.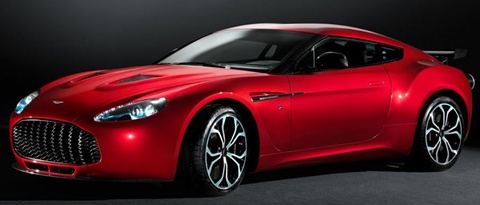 Specifications
General Info

| | |
| --- | --- |
| Vehicle Type: Coupe | Base Price: $515,460.00 |
| Fuel Tank Capacity: 21.1 gallons (80l) | Miles Per Gallon: 12 city / 24 hwy |
Dimensions

| | |
| --- | --- |
| Length: 172.6 in. (438.5 cm) | Wheel Base: 102.4 in. (260 cm) |
| Height: 49.2 in. (125 cm) | Width: 79.6 in. (202.2 cm) |
| Curb Weight: 3704 lbs (1680 kg) | Ground Clearance: NA |
| Luggage Capacity: 10.3 cu ft | Maximum Seating: 2 people |
Performance

| | |
| --- | --- |
| Engine: V12 Quad OHC | Displacement: 5935 cc |
| Horsepower: 510 HP | Max RPM: 6500 RPM |
| Torque: 420 lb-ft @ 5750 rpm | Transmission: 6-Speed Manual |
| 0-60 mph: 4.2 seconds | Maximum Speed: 190 mph (305 km/h) |
Historic Journey
The new car's design started its journey in 2010. The vision for Zagato was a culmination of the company's design and the hopes to surpass all limitations at the same time. The V12 Zagato was a concept car in May 2011 and this new creation garnered a lot of positive reviews. The new Zagato was then ready to be produced and offered to customers around the globe.
Exterior
There is no doubt that every single person involved in creating this new Aston Martin gave it their all. It took 2,000 man hours to complete the creation of this car. They also took their time to give it a fine finish of hand crafted carbon fiber and aluminum.
The car will also be featured in four amazing colors: Diavolo Red, Alloro Green, Scintilla Silver and Alba Blue.

Interior
The interior of the Zagato is also a work of art waiting to be discovered. It has a "Seven Bridge of Weir" hides that gives durability and preserves the natural leather of the interior. It also provides a unique, flowing pattern that evokes the smooth movement of this amazing car.
The dashboard has a satin finish made out of carbon fiber that gives a sporty but elegant look for the Zagato.
The Future
Future car owners definitely have something to look forward to with this new Aston Martin. They will be able to experience speed, elegance and durability as soon as the 2013 Aston Martin V12 Zagato is out in the market. A true work of art, and one of a kind car of the future.