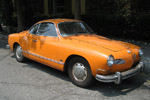 Volkswagen Karmann Ghia
Photo by:
Infrogmation
,
Creative Commons
Built by German company Karmann and designed by Italian firm Ghia, Volkswagen Karmann Ghia stood out from the pack for its exotic looks, back when it arrived in the marketplace in 1955. The Ghia has a nostalgic appeal to it, and even in the present age, remains among the riveting entries during car shows. While it relied on Beetle power, air-cooled, rear-mounted engine, the VW Karmann Ghia was a class all its own, making it an eminently desirable car.
Est. Price for Used Volkswagen Karmann Ghia: $2,000-$24,000
Est. MPG for Volkswagen Karmann Ghia: avg 21.2
Available Trims: Karmann Ghia
Below are Pre-Owned Volkswagen Karmann Ghia from Ebay and 3 of the top used-car sites on the web:
[phpbay keywords="Volkswagen Karmann Ghia" num="5″ siteid="1″ sortorder="BestMatch" templatename="default" paging="false" category="6001″]
The two-door coupe (also available as a convertible) followed the Volkswagen Type 1 platform was a huge success. It was sought not just for being great-looking but for being within the financial reach of many car enthusiasts. The VW Karmann Ghia had a 1.6-liter engine that made 60 horsepower. The Ghia Type 34, however, which rolled out from the early to late 1960s was powered by a 1.5 liter engine. This rare classic car is a fabulous find as far as avid auto connoisseurs are concerned.
Volkswagen Karmann Ghia Test Drive