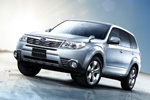 The Subaru Forester comes into the market redesigned and in a variety of trims as well. A part of the new design is the apparent downgrade of the interiors and a farewell to its truck-alternative identity. Both has disappointed and pleased car enthusiasts.
The price of the 2009 base model is lower compared to others, even to that of its predecessor. The change into a full 4WD SUV has made it bigger with a more appealing exterior. The 2009 Forester been nominated at least thrice for best SUV in a sea of competitors.
Base MSRP for New Subaru Forester: $20,495
Estimated Price Range for Used Subaru Forester: $1,700-$19,000
Estimated MPG for Subaru Forester: 19 City/25 Hwy
Available Trims: Base, S, L
Below are Pre-Owned Subaru Forester from Ebay and 7 of the top used-car sites on the web:
[phpbay keywords="Subaru Forester" num="5″ siteid="1″ sortorder="BestMatch" templatename="default" paging="false" category="6001″]
The 5-seater, 4-door SUV comes in an array of trims, from the base 2.5X, 2.5X Premium, 2.5X L. L. Bean, and the turbo-powered 2.5 XT, and 2.5XT Limited. Every variant is in AWD as with all Subie vehicles. One of the positive changes is the sportier performance. The power plants on the Forester are Subaru Boxer engines. On the non-turbo is a 2.5 liter, 4-cylinder 16-valve, SOHC, 170 horsepower at 6,000 RPM. On the XT models is a turbo-charged intercooled 2.5 liter, 4-cylinder 16-valve, DOHC, 224 horsepower at 5,200 RPM. They come with active valve control system (AVCS) and electronic throttle control (ETC). The 170hp provides a sufficient enough acceleration when the vehicle is not fully loaded. The turbo 224hp pulls very well.
Transmission is a 5-speed manual with overdrive and a 4-speed automatic, also with OD. Engine power is contained by power-assisted 4-wheel disc brakes with Anti-lock Brake System (ABS) with brake assist and Electronic Brake Force Distribution (EBD). The ride is smoothened out by a MacPherson-type suspension at the front and a double-wishbone system at the rear.
Subaru Forester Review