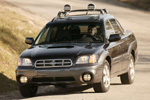 The Subaru Baja is a car-based crew-cab pick-up truck. With car-based means that Subaru wanted to market a utility vehicle minus the harsh ride and poor fuel efficiency of a truck. It features the cargo box of a pick-up truck with the cargo bed extendable. The rear seats may be folded allowing that area to be converted for storage use and expanding the capacity of the cargo bed from 41.5 to 60 inches. The rear glass, however, is not removable. An optional tailgate extender increases cargo bed length to a further 75 inches. Subaru stopped production of the Baja after 2006.
The 4-seater Baja comes in the base Sport, Turbo, and a leather-packaged Turbo. All models come in an AWD drive train and a 2.5 liter, 4-cylinder, SOHC, 16-valve engine. The Turbo models get a turbo-charged power plant. Transmission is available in a 5-speed manual and an optional 4-speed automatic. The leather-package Turbo is available in 4-speed automatic. The base engine produces 165 horsepower at 5,600 RPM. The turbo-charged version generates 210 horsepower. The 5-speed manual driving mileage is at 20/26 mpg city/highway.
Estimated Price Range for Used Subaru Baja: $5,000-$29,000
Estimated MPG for Subaru Baja: 18 City/23 Hwy
Available Trims: Base, Sport
Below are Pre-Owned Subaru Baja from Ebay and 4 of the top used-car sites on the web:
[phpbay keywords="Subaru Baja" num="5″ siteid="1″ sortorder="BestMatch" templatename="default" paging="false" category="6001″]
It can carry a payload of 1,050 pounds maximum and can tow 2,400 pounds. This is about only half of what a typical compact pick-up is capable of, but it is enough for personal items. Suspension is a modified independent MacPherson struts at the front and multi-link at the rear. It has front and rear stabilizer bars. Stopping power is ably provided by front and rear disc brakes with Anti-lock Brake System (ABS) with Electronic Brake Force Distribution (EBD). Safety is offered with driver and front passenger airbags.
Subaru Baja Drifting in the Snow