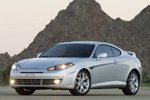 The 2008 version of the Hyundai Tiburon looks appealing on the external. However, it is lodged on the bottom half of the subcompact sedan category. The 2-door sporty-looking car has a rather small cabin capacity and cramped rear seating. Its power cannot match that of the leading competition. Still, Hyundai offers value with the car. Its affordability and exterior makes up for a seemingly lack in thrill. Hyundai has stopped production of the Tiburon after 2008.
Estimated Price Range for Used Hyundai Tiburon: $1,800-$16,000
Estimated MPG for Hyundai Tiburon: 20 City/27 Hwy
Available Trims: GS, GT, FX
Below are Pre-Owned Hyundai Tiburon from Ebay and 7 of the top used-car sites on the web:
[phpbay keywords="Hyundai Tiburon" num="5″ siteid="1″ sortorder="BestMatch" templatename="default" paging="false" category="6001″]
This Korean coupe is available in the base GS, GT, SE, and GT Limited variants. Even if it lags behind the established sports sedans, it is acceptable enough and gives an exhilarating ride. It is responsive to the driver's whims. The car is equipped with either a 2.0 liter 4-cylinder or 2.7 liter V6. The V6 gives a burst of speed and quickness.
The 2.0 liter is a 4-cylinder, 16-valve DOHC, 138 horsepower at 6,000 RPM engine with continuously variable valve timing (CVVT) found on the base GS. The faster V6 is a 2.7 liter, 24-valve DOHC, 172 horsepower at 6,000 RPM on the GT, SE, and GT Limited. The engine power is transmitted with a lineup of 5-speed manual and optional 4-speed automatic transmission on the GS, GT, and GT Limited, and a 6-speed manual for the SE. The sports coupe sits on top of independent MacPherson struts with coil springs front suspension and independent multi-link with coil springs rear suspension system. For the GS, GT, and GT Limited, the suspension is sport-tuned. The SE's is track-tuned. Stopping power is given by 4-wheel disc brakes with Anti-lock Brake System (ABS). Only the SE variant is fitted with Electronic Control Stability (ECS) with Traction Control System (TCS).
Hyundai Tiburon Walkaround