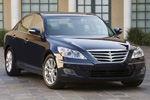 Upon first gaze at the 2009 Hyundai Genesis, car aficionados will not deny a second glance. Refined lines, manly looks, and a striking element is that Hyundai removed the stylized H badge on the front chrome grill and let it speak for itself. This luxury car's maker will only be known when one takes a look at the trunk cover at the rear when the car has just passed by.
The 2009 North American Car of the Year winner features a front engine and rear wheel drive platform. Its affordability in the large sedan category paired with its luxury has been shaking up the car markets. It offers luxury and space rivaling those from America, Europe, and Japan for its price. However, an all-wheel-drive configuration is not present and handling flounders in sharp turns against its competitors.
Estimated Price Range for Used Hyundai Genesis: $4,800-$20,000
Estimated MPG for Hyundai Genesis: 20 City/30 Hwy
Below are Pre-Owned Hyundai Genesis from Ebay and 6 of the top used-car sites on the web:
[phpbay keywords="Hyundai Genesis" num="5″ siteid="1″ sortorder="BestMatch" templatename="default" paging="false" category="6001″]
The Genesis comes in two variants, the 3.8 and the 4.6, rightly named after their engines. The 3.8 liter is a 24-valve DOHC, continuously variable valve timing (CVVT) V6 that gives 290 horsepower at 6,200 RPM. The bigger 4.6 liter is more robust with 32-valve DOHC, CVVT V8 delivering 375 horsepower at 6,500 RPM. The power is delivered by a standard 6-speed Shiftronic automatic transmission with overdrive. The benchmark acceleration of 0 to 60 mph is just at six seconds for both. Fuel mileage is at 18/27 mpg city/highway on the 3.8 and 17/25 mpg for the 4.6.
The powerful engines easily respond to the 4-wheel disc brake with Anti-lock Brake System (ABS), Electronic Brake Force Distribution (EBD), and brake assist. Electronic Stability Control (ESC) and Traction Control System (TCS) help keep the car on the road. Luxury driving experience is belted out by a 5-link front and rear suspension system.
Hyundai Genesis Review