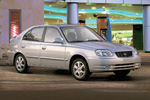 The Hyundai Accent is a 5-passenger compact family sedan. The 2009 version comes in 3-door GS and SE variants and the 4-door GLS. All trims come with standard 1.6 liter, I4, DOHC, 110-horsepower at 6,000 RPM gasoline engine with continuously variable valve timing (CVVT). Transmission is a standard 5-speed manual with overdrive. An automatic 4-speed transmission with overdrive is optional. The manual achieves a 27/33 mpg city/highway while the automatic scores a 26/35 mpg city/highway fuel efficiency.
Estimated Price Range for Used Hyundai Accent: $1,400-$2,500
Estimated MPG for Hyundai Accent: 24 City/31 Hwy
Available Trims: L, GL, GS
Below are Pre-Owned Hyundai Accent from Ebay and 7 of the top used-car sites on the web:
[phpbay keywords="Hyundai Accent" num="5″ siteid="1″ sortorder="BestMatch" templatename="default" paging="false" category="6001″]
The third generation Accent is rather relatively slow and power is minimal. The speed and response is just enough though and gives an acceptable performance. The small engine is not that powerful although it sometimes provides a spirited pull. At high RPMs, the engine makes a lot of noise expected of affordable cars. The 2009 Accent provides good handling and braking despite having a too soft suspension system. Braking is provided by front disc and rear drum anti-lock brakes. For a compact car, it surprises buyers with its roomy interiors. The 3-door looks sportier especially with aftermarket modifications.
The safety features are advanced for an economy car. It has driver and front passenger air bags, driver, and passenger side impact airbags, and front and rear roof-mounted head curtain airbags. Side impact beams, front and rear crumple zones, and hood-buckling are added safety highlights. The cargo is expected of compact cars, with the 4-door having a 12.4 cubic feet space while the 3-door hatchback offers a 15.9 cubic feet.
Hyundai Accent Review