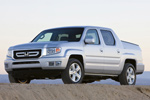 As a response to the North American pickup truck market, Honda introduced its own Honda Ridgeline. This mid-size sport utility truck was entered into the market in 2005 as a 2006 model and is currently under production.
The Ridgeline carries the distinction as the only pick-up in the North American market that is car-based. The current Ridgeline is available in a four door body style and consumers can select from three trims. The trims include the base RT, the midrange RTS and the leather-lined RTL.
Base MSRP for New Honda Ridgeline: $29,150
Estimated MPG for Used Honda Ridgeline: 15 City/20 Hwy
Available Trims: base, RTL, RTS, RT, RTX
Below are Pre-Owned Honda Ridgeline from Ebay and 7 of the top used-car sites on the web:
[phpbay keywords="Honda Ridgeline" num="5″ siteid="1″ sortorder="BestMatch" templatename="default" paging="false" category="6001″]
These three trims may have some distinctions but all these carry some similar features. For example, all Ridgelines no matter what the trim will feature the hidden trunk in the cargo bed that can act as an ice chest. There is also the dent-proof bed liner, the four-wheel independent suspension and the trailer hitch. All Ridgeline pickup trucks are powered by the 250-horsepower V6 engine as complemented by the 5-speed automatic transmission.
Honda Ridgeline Review