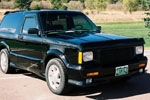 GMC Typhoon
Photo by:
Arrrghhh
,
Creative Commons
The GMC Typhoon went into production from 1992 to 1993 with less than 5,000 units produced. It was marketed as the high-performance variant of GM's Jimmy sports utility vehicle (SUV), and specifically based on the 1991 edition of that SUV.
Estimated Price Range for Used GMC Typhoon: $3,500-$15,000
Estimated MPG for GMC Typhoon: 14 City/17 Hwy
Below are Pre-Owned GMC Typhoon from Ebay and 3 of the top used-car sites on the web:
[phpbay keywords="GMC Typhoon" num="5″ siteid="1″ sortorder="BestMatch" templatename="default" paging="false" category="6001″]
The Typhoon is also closely related to the GMC Syclone but differs with its air-operated self-leveling rear suspension. An all-wheel drive, the Typhoon is powered by a 4.3L LB4 turbo V6 engine. Power output is listed officially at 280 horse power (209 kW) and 360 ft-lb (488 N-m) of torque, although there have been some stock Typhoons gauged at more than 300 horse power (224 kW).
The GMC Typhoon can accelerate from 0 to 60 miles per hour in 5.3 seconds and burn a quarter-mile track at 95 mph in 14.1 seconds. With these impressive figures, Car and Driver magazine favorably compared the Typhoon's performance with the pricier Ferrari 348ts, Chevrolet Corvette and Nissan 300ZX Turbo.
GMC Typhoon Review