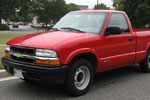 The GMC Sonoma counts itself among the trucks produced by General Motors/Chevrolet under the S-Series. This compact pickup truck was first known as the S-15 with trim packages similar to the GMC Sierra.
The S-15 was introduced with its Chevrolet twin, the S-10, in 1982, and was renamed as the GMC Sonoma in 1991 with its Sierra trims dropped to avoid market confusion in the then debuting GMC Sierra full-size pickups.
The early S-15 pickups sported 1.9L Isuzu 12, two-barrel engines with 84 hp (63 kW) and 101 lb-ft (137 n-M) of torque. This has been upgraded in the subsequent model years of the first generation of S-15/Sonoma, highlighted by the adoption of the Iron Duke and 2.8L/4.3L V6 engines. A Sonoma GT with a 4.3L V6 Vortec W code engine was introduced in 1992 but this variant was discontinued in 1993. Second-generation GMC Sonoma engine options were trimmed to a new 2.2L and 4.3L Vortec powerhouse assemblies.
Estimated Price Range for Used GMC Sonoma: $1,200-$3,00
Estimated MPG for GMC Sonoma: 22 City/25 Hwy
Available Trims: SL, SLS
Below are Pre-Owned GMC Sonoma from Ebay and 7 of the top used-car sites on the web:
[phpbay keywords="GMC Sonoma" num="5″ siteid="1″ sortorder="BestMatch" templatename="default" paging="false" category="6001″]
GMC Sonoma VS Chevrolet S-10 VS Ford Ranger