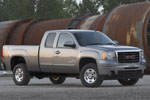 The GMC Sierra 2500 belongs to the series of pickup trucks that General Motors started selling in 1999. The series also included the smaller half-ton 1500 versions which were echoed as the Silverados in the Chevrolet lineup.
The three-quarter-ton 2500 were available in regular, extended cab and mounted with 6.0L Vortec 6000 V8 engines capable of producing 300 hp (224 kW) and 360 lb-ft (488 N-m) of torque. The GMC Sierra 2500, like the 1500, has a heavy-duty (HD) variant that is powered by a Duramax V8 engine with 360 hp (268 kW) at 3000 rpm and torque of 650 lb-ft (881 N-m) at 1600 rpm.
There is an option for either manual or automatic transmission with the latter offering a tow/haul mode capable of shift point adjustments for maximum power under heavy loads. There are model choices for rear-wheel and four-wheel drives that needs to be disengaged on dry pavement.
Estimated Price Range for Used GMC Sierra 2500: $1,700-$23,000
Estimated MPG for GMC Sierra 2500: 9 City/11 Hwy
Available Trims: SL, SLE
Below are Pre-Owned GMC Sierra 2500 from Ebay and 4 of the top used-car sites on the web:
[phpbay keywords="GMC Sierra 2500″ num="5″ siteid="1″ sortorder="BestMatch" templatename="default" paging="false" category="6001″]
GMC Sierra 2500 Review