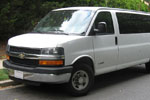 General Motors introduced the GMC Savana in 1996 as its entry in the full-size van market along with its counterpart in the GM Chevrolet lineup, the Express. Different only in trim details, both vans are popular as workhorses, used as utility vehicles by electricians, plumbers and other service providers who need to lug along large or bulky equipment.
The Savana likewise works as a passenger vehicle with models that could accommodate from eight to 15 people, making the van a popular choice as a shuttle bus, ambulance or school transport. The sheetmetal of the Savana was updated after 2003, using material similar to that used in the GMT800 SUVs and light trucks.
The vans were also rigged with LS engines. All the passenger vans were equipped with Stabilitrak (stability control) in 2004. Further enhancements in 2008 saw an updated GMC Savana interior, and side impact roof airbags became a standard feature on all passenger models. The E85 Flexfuel Vortec 5.3L V8 engine were mounted for the 2008 work vans and passenger models.
Estimated Price Range for Used GMC Savana: $2,000-$45,000
Estimated MPG for GMC Savana: 13 City/17 Hwy
Available Trims: Passenger, Cargo
Below are Pre-Owned GMC Savana from Ebay and 6 of the top used-car sites on the web:
[phpbay keywords="GMC Savana" num="5″ siteid="1″ sortorder="BestMatch" templatename="default" paging="false" category="6001″]
GMC Savana Review