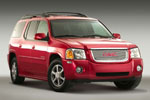 The GMC Envoy first appeared in the General Motors lineup in 1998 as a luxury variant of the sports utility vehicle (SUV) Jimmy which was eventually phased out in 2001. The Envoy reappeared in 2002 as a stand-alone SUV model.
It still utilized the platform from the Jimmy's clone in the GM Chevrolet lineup, the Blazer. However, the GMC Envoy had different interior and exterior designs. In 2002, Motor Trend magazine named the Envoy its Sports/Utility of the Year. For 2002, the SUV sported a 275tq straight-6 Vortec 4200 engine with a 270 hp (201 kW) power rating which was boosted a bit to 275 hp (205 kW) in the 2003–2005 versions.
In 2006, the rating was further increased to 291 hp (217 kW) following a revamp of the SUV's straight-6 Vortec 4200 powerhouse which has been cited as one of the world's best engines from 2002–2005. Four-wheel disc brakes are standard to all GMC Envoy models.
Estimated Price Range for Used GMC Envoy: $2,900-$4,500
Estimated MPG for GMC Envoy: 15 City/18 Hwy
Available Trims: XL, SLE, SLT
Below are Pre-Owned GMC Envoy from Ebay and 7 of the top used-car sites on the web:
[phpbay keywords="GMC Envoy" num="5″ siteid="1″ sortorder="BestMatch" templatename="default" paging="false" category="6001″]
GMC Envoy Commercial