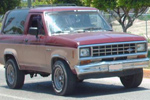 The Ford Bronco II was another compact SUV which was available in the market from 1984 until 1990. Ford Bronco II was produced by Ford to offer an alternative to the other company's models such as Chevrolet S10 Blazer and Toyota 4 Runner.
The Ford Bronco II was Ford's first compact sport utility vehicle (SUV) after the original full-size Bronco which was produced from 1966 to 1977. Ford Bronco II is typically smaller then the first Bronco, but is identical to the Ford Ranger mechanically and structurally, with some exception in details.
While all full-size Broncos were four-wheel drive, it is optional in Bronco II. One of the weak points of Bronco II is the tendency of the cylinder head to crack when the engine overheats. This in turn can cause leakage of the internal coolant which can further contaminate the oil. This situation if not discovered on time can lead to severe damage in the engine.
Estimated Price Range for Used Ford Bronco: $1,250 – $22,000
Estimated MPG for Used Ford Bronco: 11 City/16 Hwy
Available Trims: base, II, Eddie Bauer, 4WD
Below are Pre-Owned Ford Bronco from Ebay and 6 of the top used-car sites on the web:
[phpbay keywords="Ford Bronco II" num="5″ siteid="1″ sortorder="BestMatch" templatename="default" paging="false" category="6001″]
Ford Bronco II Off-roading