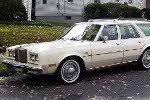 The Chrysler LeBaron debuted in 1977 and became the lowest-priced Chrysler model. The model name, which came from a 1930s coachworks purchased by Chrysler, had been previously used for Imperial vehicles.
Ten years since its launch, LeBaron had undergone major changes, including a V6 option for engines in 1990. In the same year, the vehicle was equipped with an optional electronic variable damped suspension that allowed change in shock absorber damping. Chrysler used variable nozzle technology to create a quicker response for LeBaron's 2.2-liter turbo IV engine. The exterior of the LeBaron was redesigned in 1993. For instance, the hidden headlights of the 1987 to 1992 models were replaced by lower-priced headlights.
Aside from the coupes and convertibles, the Chrysler LeBaron also has a six-passenger sedan version, which is also powered by V6 engine. It comes standard with a driver-side airbag. The sedan's suspension system features anti-sway bars at the front and rear areas and front gas-charged struts.
Estimated Price Range for Used Chrysler LeBaron: $500-$6,800
Estimated MPG for Chrysler LeBaron: 18 City/26 Hwy
Available Trims: Base, LX, GTC
Below are Pre-Owned Chrysler LeBaron from Ebay and 3 of the top used-car sites on the web:
[phpbay keywords="Chrysler LeBaron" num="5″ siteid="1″ sortorder="BestMatch" templatename="default" paging="false" category="6001″]
Chrysler LeBaron Commercial