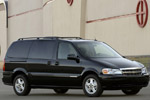 Since 1997, The Chevy Venture was able to captivate the hearts of many minivan lovers for eight long years. It has a u-body structure and available in 3-door and 4-door style. The Venture was manufactured as a substitute for the Chevy Lumina APV which became famous because of its radical design.
The external layout of the Venture was modified in 2001, and then the introduction of the AWD edition happened in 2002. However, several negative reviews about the narrow car cabin and the low number of sales implied that the changes were not appreciated by many fans of minivans.
Estimated Price Range for Used Chevrolet Venture: $1,000-$21,000
Estimated MPG for Chevrolet Venture: 16 City/22 Hwy
Available Trims: base
Below are Pre-Owned Chevrolet Venture from Ebay and 7 of the top used-car sites on the web:
[phpbay keywords="Chevrolet Venture" num="5″ siteid="1″ sortorder="BestMatch" templatename="default" paging="false" category="6001″]
In terms of safety the Chevy Venture received a four-star rating from the NHTSA during the head-on collision test. But the Pontiac Transport, which is the exact replica of the Venture, received a very low grade from the IIHS during its frontal crash experiment. As a result, the safety reputation of Chevy Venture was compromised and the sales started to slow down. It was in 2005 when Chevrolet replaced Venture with the Uplander.
Chevrolet Venture Commercial