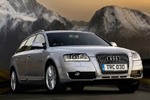 The Audi Allroad is based on the wagon or estate (Avant) version of the Audi A6, and hence, is classified as an executive crossover car.
With this pedigree, the Allroad's platform is identical to that of the Audi A6's second-generation C5, which is the Volkswagen Group C5 platform. Rear ends of both Audi models are also very similar.
What set the Audi Allroad apart are its larger and all-terrain tires, an advanced air suspension system, and bumpers that come flared and unpainted. All versions of the Audi Allroad are equipped with the trademark Torsen-based quattro permanent 4WD (four-wheel drive) system from Audi.
An Audi Allroad has been tested capable of completing an official Land Rover course, the only car-based SUV to have passed this test on rough terrain. Credit goes to the Allroad's adjustable air suspension system providing ground clearance up to 8 inches at the mere touch of a button.
Estimated Price Range for Used Audi Allroad: $3000-$7000
Estimated MPG for Used Audi Allroad: 15 City/20 Hwy
Available Trims: 2.7T, quattro
Below are Pre-Owned Audi Allroad from Ebay and 7 of the top used-car sites on the web:
[phpbay]Audi Allroad,5,6001[/phpbay]
Audi Allroad Driving on Ice