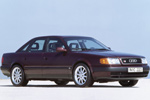 The Audi 100 is a mid-sized car manufactured between 1968 and 1994, and was marketed in those years in four variants: C1, C2, C3 and C4.
The development of Audi 100 was a secret to the top management of Volkswagen (which acquired Audi maker Auto Union from Mercedes Benz in 1965) which was then heavily focused on the production of its highly successful Beetle model. With the Volkswagen management finally convinced of the merits of Audi 100, the car was launched as the first water-cooled, front-engined Audi.
Originally, its name denoted a 100 PS (99 hp/74kW) engine. The C1 has several variants, namely the two- and four-door saloons and stylish coupes. The C2, introduced in 1976, featured a five-cylinder engine and crisper styling. This generation included a five-door hatchback model (100 Avant). The C3, with an aerodynamic design resulting in fuel efficiency, debuted in 1982 and was named Europe's Car of the Year in 1983. The C4, introduced in 1991, featured a 2.8L, 90-degree, SOCH, 12v, V6 engine.
Estimated Price Range for Used Audi 100: $1000-$5000
Estimated MPG for Used Audi 100: 17 City/24 Hwy
Available Trims: base, S, CS
Below are Pre-Owned Audi 100 from Ebay and 3 of the top used-car sites on the web:
[phpbay]Audi 100,5,6001[/phpbay]
Audi 100 Vs. Nissan Almera Turbo In a Drag Race