The Rolls Royce Silver Shadow is a luxury car produced by Rolls Royce Limited in between the years 1965-1980. It is also the highest sold car among the other Rolls-Royce cars and the first to use monocoque chassis.
The Rolls-Royce Silver Shadow is considered as the predecessor of Silver Cloud III. John Polwhele Blatchley, the chief designer of Rolls-Royce has designed the cars exteriors where he used the modern methods. Also a number of new features have been added such as monocoque construction, independent rear suspension, and disc brakes in the place of drum brakes.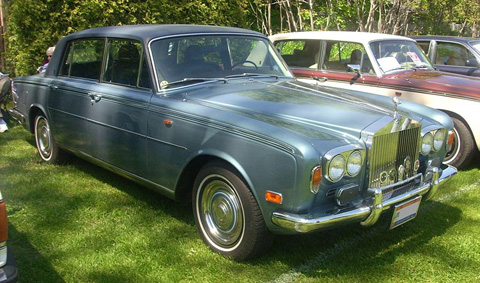 Variants:
Silver Shadow II
The Silver Shadow has been renamed as Silver Shadow II in the year 1977, where a number of changes have been done which included the pinion and rack steering, improved front suspensions and alloy and rubber bumpers have been used in the place of chrome. The Silver Shadow II was manufactured in a limited version to mark the 75th anniversary of the Rolls-Royce.
Silver Wraith II
The Silver Wraith II was launched after the Silver Shadow II where a number of modifications have been done which included the covered roof, wheel covers and rear opera style windows. In addition electric divisions have been installed which takes the leg room up to four inches extra.
Camargue and Corniche
The Corniche was launched in the year 1965 which was a two-door fixed head coupe and later in the year 1967, it was followed by a convertible.
The Camargue body structure was designed by Pininfarina, an Italian car design firm. The production of the Camargue was done in between the years 1975-1986 and the Camargue is also considered the most expensive car which was higher than the price of the Phantom VI.
Shadow Based Phantom VII
The building of a new version Shadow Based Phantom VII has been considered by the Rolls-Royce, but the project never happened.
The Silver Shadow was considered as the successful model in the Rolls-Royce where 38,000 cars have been manufactured which earned massive profits for the Rolls-Royce Motors.