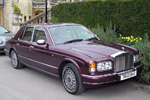 With the Rolls-Royce Company sold to the Volkswagen Group in 1998, one of the Rolls-Royce brand's first achievements was to launch a new line of cars called the Rolls-Royce Silver Seraph.
The Silver Seraph was debuted at the Geneva Motor Show in March 1998. As the Rolls-Royce Silver Spur was discontinued in 1997, the Silver Seraph became its replacement. Until its discontinuation in 2002, all Seraphs were built by hand and were manufactured in Crewe, England at the Rolls-Royce factory there. The Silver Seraph was the last Rolls-Royce car manufactured there, as the facility concentrated on making Bentley cars after 2002.
As with any other Rolls-Royce car, the price tag of the Silver Seraph was a lofty $220,695, making it the second most expensive Rolls-Royce car, second only to the Rolls-Royce Corniche. An aluminum alloy BMW V12 engine with 5.4 L capacity powered the car with a 5-speed automatic transmission. A stretch version, the Rolls-Royce Park Ward, was made available for two years, from 2001 until 2002, when it was discontinued along with the rest of the Silver Seraph line.
Estimated Price Range for Used Rolls-Royce Silver Seraph: $38,000-$130,000
Estimated MPG for Rolls-Royce Silver Seraph: 11 City/15 Hwy
Below are Pre-Owned Rolls-Royce Silver Seraph from Ebay and 4 of the top used-car sites on the web:
[phpbay keywords="Rolls-Royce Silver Seraph" num="5″ siteid="1″ sortorder="BestMatch" templatename="default" paging="false" category="6001″]
Rolls-Royce Silver Seraph Review