The Rolls-Royce Phantom VI is manufactured by Rolls-Royce Motors at the Mulliner Park Ward, London in between the years 1968-1991.
The launch of Phantom VI set a high standard in Rolls-Royce Motors at the time of its production. The Phantom VI has a stylish front face and features a powerful engine. The capacity of the engine is about 6,750 cc, where 3-speed automatic transmission gear box has been used. The coil springs has been used in the front and leaf springs at the back.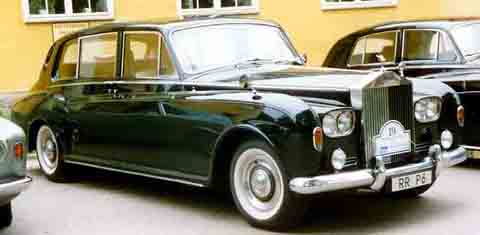 Rolls-Royce Phantom VI
Photo by:
Lars-Göran Lindgren Sweden
,
Creative Commons
The Phantom VI consists of a V8 engine which has a capacity of 6,230 cc and stroke of 91.5 mm and bore of 104 mm which was later converted to 6,750 cc, with twin SU carburetors and a 3-speed automatic gearbox.
A total of 374 Phantom VI cars have been manufactured at its time. The Phantom VI is also one of the cars in Queen Elizabeth II's fleet. The Phantom VI car can also be seen in the movies "Invasion: UFO" which was released in the year 1972 and "Banzai Runner" released in the year 1987.
Specifications
Engine: 6.2 liter Rolls-Royce V8 and 6.75 liter Rolls-Royce V8
Displacement: 6,750 cc
Transmission: 3-speed automatic
Wheel base: 3,700 mm
Height: 1,800 mm
Length: 4,260 mm
Width: 2,000 mm
Weight: 2.5 tons