The Rolls-Royce Corniche is a coupe and Convertible car which was produced by Rolls-Royce Motors in between the years 1971-1996.
The Rolls-Royce Corniche was available in coupe and convertible, it consisted of a standard V8 Rolls-Royce engine along with aluminum cylinder heads and aluminum-silicon alloy black which were cast with wet iron cylinder liners. The stroke in the car is about 99.1 mm and the bore is about 104.1 mm. The twin SU carburetors have been fitted; Bosch fuel injection was also added in the year 1980.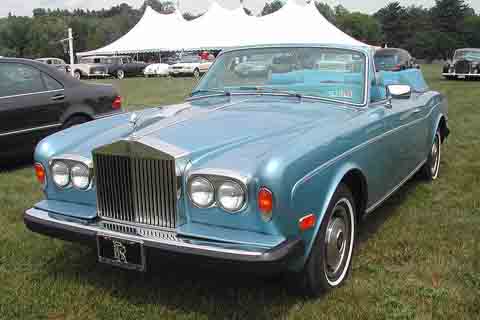 The car consists of 3-speed automatic transmission; four wheels independent suspensions along with coil springs augmented that have been increased with a hydraulic system. Disc brakes are used in all four wheels and later ventilated disc brakes have been added in the year 1972.
Corniche II
The Corniche II model has been launched in the year 1986 that consisted of rubber and alloy bumpers which have been replaced with the previous chrome structures. Also, an oil cooler was used in the place of aluminum radiator. The other additional features included the new pattern at the rear license plate, modified dashboard, style rims and designer seats.
Corniche III
The Corniche III model has been launched in the year 1989 at the Frankfurt Motor Show. The standard air bags has been used in this model which was also used in the Corniche II, advanced suspension systems have been installed, bumpers have been painted in the car color and some changes have been done to the console and dashboard.
Corniche IV
The Corniche IV was launched in the year 1993, where the production of the Corniche IV has been done in Crewe Town, England. The major changes compared to the Corniche III is a glass rear window used in place of the plastic ones. The case mechanism and the air bags have been modified.
Corniche V
The Corniche V was launched on January 2000. The Corniche V is also considered as the costliest car manufactured by Rolls-Royce at its time with a starting price of 359,900 US Dollars.