The Mercedes-Benz Aria Concept Design by Slavche Tanevski is a concept car for the future, in 2030 to be exact. A luxury car with a strong personality beautifully sculpted with sleek and sexy design and with timeless beauty in mind.
The exterior front design is inspired by Alexander's helmet, which is a symbol of power and authority, and still enables to incorporate the traditional front grill of the Mercedes-Benz. From the side; the body is elongated and it looks as if the wind has carve off the excess lining, making the car flow better against the wind.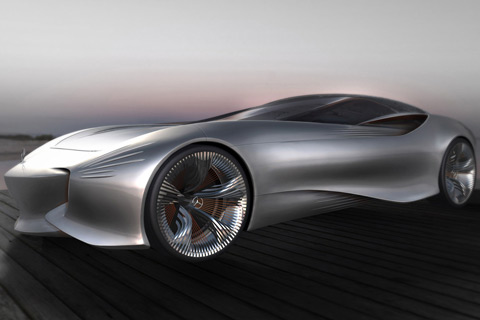 The interior is a four-seater capacity, with a gull-wing like door that opens upward. The wheels have five spoke that is nicely done. Slavche Tanevski gave the Aria a nice elegant and finesse stance from the bottom up. The car has the illusion of light weightiness and feels like its floating on air.
The suspension system seems sturdy and comfortable. The wheel itself looks massive that will easily grip the ground. When driving, you can feel the sensation of flying, instead of driving on the road. 5 distinctive materials are incorporated in the design, aluminum and copper for robustness, fine leather for side panels and seats, and wood flooring for a luxurious look.