The Chevrolet Corvette C5 is a sports car and the fifth generation car manufactured by Chevrolet between the years 1997-2004.
During the first launched in 1997, hatchback coupe was available and later, trunk was available from the year 1998. The 1998 models also took part in the Indianapolis 500 mile race. Later on, the C5 models also took part in the 2002 and 2004 Indianapolis 500 mile race.
The C5 consists of a 5.7 L LS1 V8 engine with 4-speed automatic and 6-speed manual transmissions. The engine delivers an output power of 345 hp which was later increased to 350 hp in the year 2001. The interiors are designed with plastic and leather.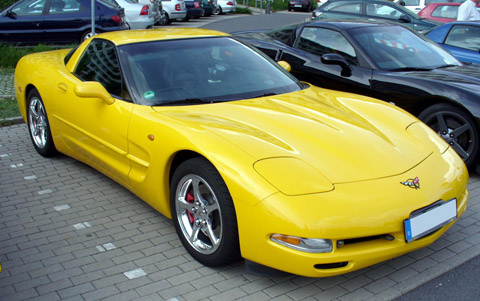 Photo by:
Thomas doerfer
,
Creative Commons
Specifications for the XK150 3.4
Special Editions
Indianapolis 500 Pace Car
In the year 1998, a new edition of the C5 has been introduced which would take part in the Indianapolis 500 mile race. The car was painted in Radar Blue color and the interiors and wheels are painted in yellow and black colors. The car also consists of an active handling system, sound system, CD player, AM/Fm radio, adjustable leather sport seats and air conditioning system.
50th Anniversary Edition
This edition was launched in the year 2003, marking the 50th anniversary celebrations of the Corvette production. The car was available in both hatchback coupe and convertible models.
Over the years, a total of 248,715 cars were manufactured and each year, there are improvements
1997
A new LS1 engine has been introduced.
1998
Active Handling System was introduced and a special edition of C5 has been launched for the participation in the Indianapolis 500 mile race.
1999
Hardtop coupe was offered.
2000
Stylish alloy wheels made its debut.
2001
Second Generation Active Handling System has been introduced and 5 hp increase in the engine power.
2002: –
20 hp increase in the engine power
2003
50th Anniversary Edition was launched.
2004
All the cars manufactured in this year contained the specifications that were used in the "24 Hours of Le Mans" race.

Specifications
Vehicle Type: – sports car
Configuration: – Front Engine
Engine: – 5.7 L LS1 V8
Horsepower: – 350 hp
Transmission: – 4-speed automatic and 6-speed Manual
Wheelbase: – 104.5 in
Length: – 179.7 in
Width: – 73.6 in
Height: – 47.7 in
Weight: – 3,300 lb