The 2006 Cadillac STS-V is a four door luxury car.
The Cadillac STS-V features the latest technology features such as Algorithm Shifting, Automatic Crash notification system, electronic transmission control and Driver Shift Control for easy shifting of the gears.
The Cadillac STS-V features a supercharged V8 engine with a capacity of 3600 cc. The engine delivers an output power of 469 bhp at 6400 rpm and 439 lb-ft torque at 3800 rpm. The Cadillac STS-V features five speed automatic transmission with Driver Shift Control where the gear shifts can be performed easily and smoothly at higher speeds.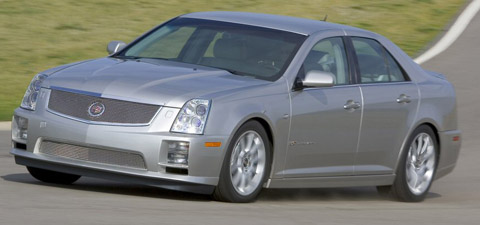 The Cadillac STS-V features aluminum alloy wheels with ten spokes. The front wheels measure 18-inches and the rear wheels measure 19-inches; these wheels feature larger pads and calipers with suspension springs and stabilizer bars that ensure better handling of the car at higher speeds.

The exteriors feature the stainless steel front grille, LED headlights and taillamps. The interiors feature hand wrapped leather coverings, fabric seats, Olive Ash Burl wood structures, remote door lock, Global Positioning System, instrument panels, air bags and the sporty steering wheel.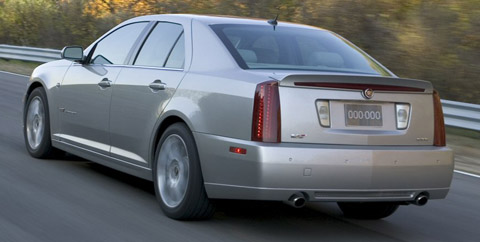 Specifications
Vehicle Type: – 4-door sedan
Configuration: – Front Engine
Engine: – supercharged V8
Capacity: – 4371 cc
Power: – 469 bhp at 6400 rpm
Torque: – 439 lb-ft at 3800 rpm
Transmission: – 5-Speed Automatic
Wheelbase: – 116.4 inches
Length: – 197.6 inches
Width: – 72.6 inches
Height: – 58.2 inches
Weight: – 4295 lbs
Cadillac STS-V Highlights