The Mercedes-Benz SLR McLaren Roadster is a super sports car with high performance and stylish looks. The cost for owning this car is approximately $495,000.
The body of the Mercedes-Benz SLR McLaren Roadster is made of carbon fiber, due to this, the car is of less weight and provides more security for the passengers.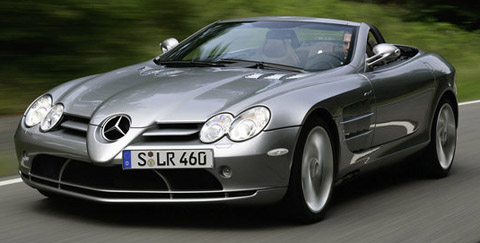 The Mercedes-Benz SLR McLaren Roadster features a Supercharged V8 engine with a capacity of 5439 cc. The engine delivers an output power of 617 bhp at 6500 rpm and 575 lb-ft torque at 3250 rpm. The car reaches the speed of 60 mph in 3.8 seconds and the top speed is about 206 mph. The car features 5-speed Automatic transmission and the gear shifts can be performed easily and smoothly even at higher loads.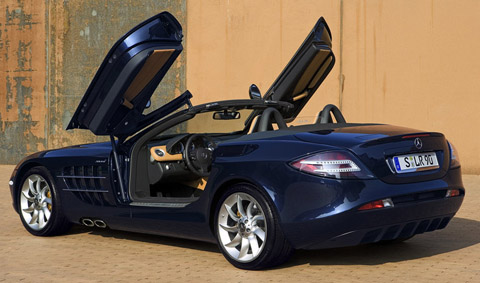 The car has an open top which is operated by the touch of a button. The safety features in the car includes the air brakes, tire pressure monitoring system and air bags.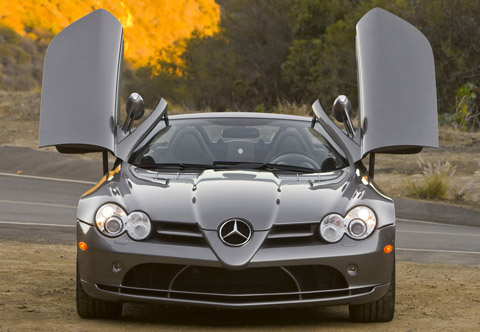 The exteriors feature the stylish open top and the interiors feature the air conditioning system, sporty steering wheel and the BOSE sound system.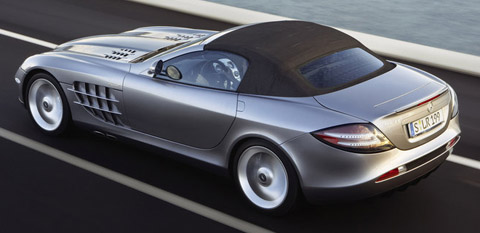 Specifications
Vehicle Type: – 2-door convertible, production car
Price: – $495,000
Configuration: – Front Engine
Engine: – Supercharged V8
Capacity: – 5439 cc
Torque: – 575 lb-ft at 3250 rpm
Horsepower: – 617 bhp at 6500 rpm
Transmission: – 5-Speed Automatic
Length: – 183.3 inches
Width: – 75.1 inches
Height: – 49.3 inches
Weight: – 4023 lbs
0-60 mph: – 3.8 sec
Top speed: – 206 mph
Mercedes-Benz SLR McLaren Roadster Review

Black Mercedes-Benz SLR McLaren Roadster Test Drive

Mercedes-Benz SLR McLaren Roadster Promotional Video