The BMW 507 is a high performance roadster manufactured by the BMW in between the years 1956-1959.
The BMW 507 was first displayed in New York's Waldorf-Astoria in the year 1955 and the sales of the BMW 507 began in the year 1956. During its production BMW suffered a huge loss on every BMW 507 car and the production was postponed to the year 1959. BMW first thought of building 5,000 units for every year, but only 252 units have been manufactured as a result of the company's loss.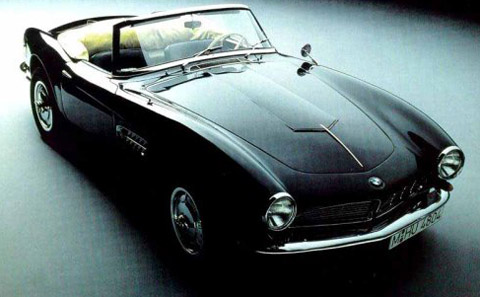 The BMW 507 featured the body structure of BMW 503 and it featured double wishbones front suspensions, Panhard rod and Alfin drum brakes. The optional features included the power brakes and Girling disc brakes.
The BMW 507 featured a V8 engine with a capacity of 3168 cc and four speed manual transmission. The engine delivered an output power of 150 bhp and it reached the speed of 60 mph in 10 seconds and the top speed is about 141 mph.
Specifications
Vehicle Type: 2-door convertible
Configuration: Front engine
Engine: V8
Capacity: 3168 cc
Transmission: 4-Speed Manual
Length: 172.6 inches
Height: 49.5 inches
Weight: 2835 lbs
0-60 mph: 10 sec
Top speed: 141 mph
BMW 507 Review