The BMW 503 is a sports car manufactured in between the years 1956-1959.
The BMW 503 was designed by Albrecht von Goertz, a German car designer and it was first displayed in the Frankfurt Motor Show in the year 1955. A total of 413 units have been manufactured where 139 units are cabriolets.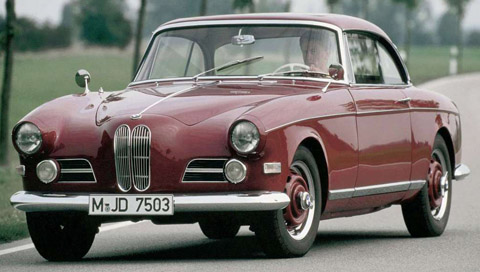 The BMW 503 featured V8 engine with a capacity of 3168 cc. The engine delivered an output power of 140 bhp and it reached the speed of 62 mph in 13 seconds and the top speed is about 120 mph. The BMW 503 featured 4-speed manual transmission which was continued from the BMW 502.
Specifications
Vehicle Type: 2-door coupe and cabriolet
Configuration: Front Engine
Engine: V8
Capacity: 3168 cc
Horsepower: 140 bhp
Transmission: 4-speed Manual
Wheelbase: 111.6 inches
Length: 187 inches
Width: 66.9 inches
Height: 55.1 inches
Weight: 3307 lbs
0-62 mph: 13 sec
Top speed: 120 mph
BMW 503 vs Jaguar