The BMW 502 is a huge four door saloon manufactured in between the years 1954-1964.
The BMW 502 was first displayed at the Geneva Motor Show in the year 1954 and the BMW 502 features the same body structure of the BMW 501. The 502 is also considered as the fastest production car in Germany during its time. The BMW 502 is well noted for its fuel efficiency which gave a mileage of 15 km per liter.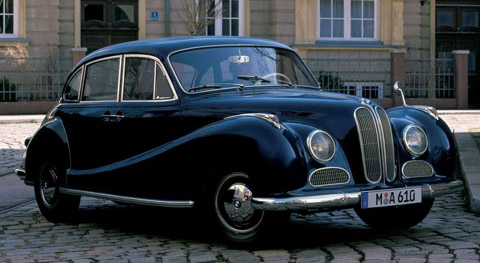 The BMW 502 featured the V8 engines with capacities of 2580 and 3168 cc; all the BMW 502 featured four speed manual transmissions.
The BMW 502 featured lavish interiors, standard individual front seats, chrome trim, fog lights, and short steering column. In between the years 1954-1955 the two door coupe and cabriolet, ambulance versions have been launched.
Specifications
Vehicle Type: 4-door saloon, 2-door coupe and cabriolet
Configuration: Front engine
Engine: V8
Capacity: 2580 and 3168 cc
Transmission: 4-Speed Manual
Wheelbase: 111.6 inches
Length: 186.2 inches
Width: 70.1 inches
Height: 60.2 inches
Weight: 3175 lbs