The BMW 328 is a sports car manufactured in between the years 1936-1940.
The BMW 328 featured the latest technology of that period, such as hemispherical combustion engine and tubular space frame, it is also considered as the best car in terms of handling and performance of its time.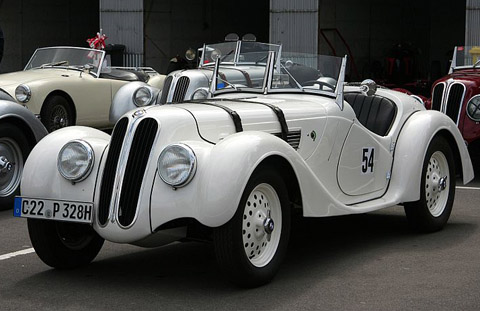 BMW 328
Photo by:
Spurzem
,
Creative Commons
The BMW 328 was also victorious at Mille Miglia, an open road race in the year 1938, RAC Rally in the year 1939, stood in the fifth place in the 24 hours of Le Mans race in the year 1939 and outright winner in the year 1940.
The body of the BMW 328 is made of aluminum and steel. The car features hydraulic shock absorbers and the front suspension features swing axle with leaf springs and the rear suspensions features live axle. It features 11-in wheels with drum brakes on all the wheels.
The BMW 328 features Straight-6 OHV with four speed manual transmission. The bore measures 66 mm and the stroke measures 96 mm. The capacity of the engine is 1971 cc, it delivers an output power of 59 KW at 5000 rpm and the top speed is about 93 mph.
Specifications
Vehicle Type: sports car
Configuration: Front Engine
Engine: Straight-6 OHV
Capacity: 1971 cc
Power: 59 KW at 5000 rpm
Transmissions: 4-Speed Manual
Wheelbase: 94.5 inches
Length: 153.5 inches
Width: 61.0 inches
Height: 55.1 inches
Weight: 1830 lbs