The BMW 2002 Turbo was a four door car manufactured in between the years 1973-1974.
The BMW 2002 Turbo was first displayed at the Frankfurt Motor Show in the year 1973 and the BMW 2002 Turbo was never sold in United States. The body of the BMW 2002 Turbo is made of unitary steel. It featured McPherson struts, coil springs and lower lateral arms on the front suspension and the rear suspension featured semi trailing arms, coil springs, and anti roll bar. The BMW 2002 featured ventilated disc brakes on the front wheels and drum brakes on the rear wheels.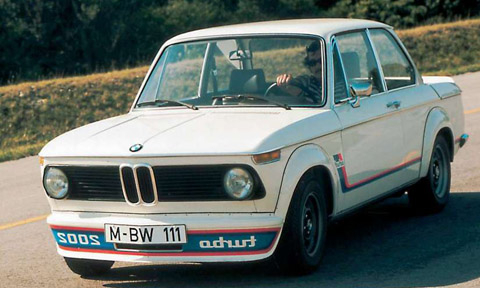 The BMW 2002 Turbo featured straight-4 engine with Kugelfischer Fuel injection, two valves per cylinder and five speed manual transmission. The engine delivered an output power of 170 bhp at 5800 rpm and 178 lb-ft torque at 4000 rpm. The BMW 2002 Turbo reaches the speed of 60 mph in 7.5 seconds and the top speed is about 130 mph.
Specifications
Vehicle Type: 4-door coupe
Configuration: Front Engine
Engine: Straight-4
Power: 170 bhp at 5800 rpm
Torque: 178 lb-ft at 4000 rpm
Transmission: 5-Speed Manual
Wheelbase: 98.3 inches
Length: 166 inches
Width: 64.0 inches
Height: 55.5 inches
Weight: 2381 lbs
0-60 mph: 7.5 sec
Top speed: 130 mph