The 2015 Porsche 918 Spyder follows the footsteps of the core concepts of the automotive manufacturer including pedigree motor racing technology, high performance and balanced fuel consumption.
To achieve this efficiency, Porsche introduces the new hybrid drive as part of their soon to come lineup.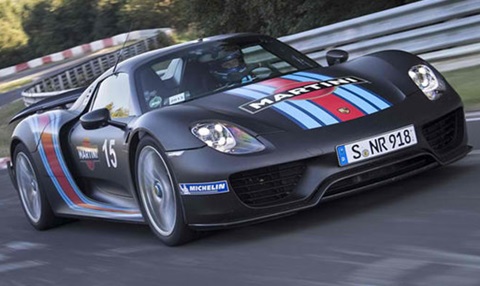 Specifications
General Info

| | |
| --- | --- |
| Vehicle Type: Hybrid Spyder | Base Price: NA |
Performance

| | |
| --- | --- |
| Engine: V8 Hybrid | Displacement: 4.6 Liter |
| Horsepower: 887 HP | Transmission: 7-Speed PDK |
| EV Mode 0-60 mph: 6.9 seconds | EV Mode Max Speed: 93 mph(150 km/h) |
Engine
Porsche started by using a 4.6 liter eight cylinder engine with a total power output of 608 horsepower and a maximum of 9,150 rpm.
The electric engine used for the hybrid mode is a 115 kW motor while the front axle has been provided with an additional independent 95 kW electric motor.
The driver has 5 modes to choose from using various combinations of the three motors. Transmission for the car is handled by a seven-speed gearbox.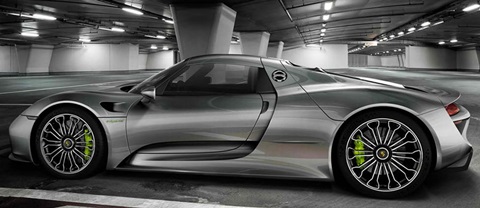 Performance
Porsche went for rear-axle steering which reduces the turning circle providing more direct and precise turns. At high speeds the car's control is superior to other models that use rear-axle steering due to balanced weight distribution and better road grip.
Exterior
While the model is influenced by other sports cars, the Spyder still preserves the Porsche lines such as the classic headlights and hood shape.
The front grille is now split into two smaller air vents with a narrower one beneath. The sides now have additional air vents right where the doors end.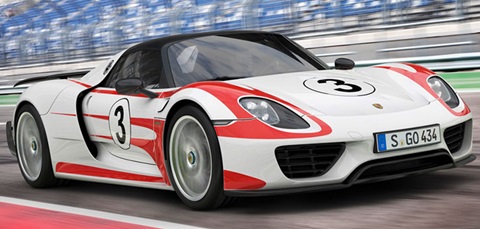 Interior
The interior features a futuristic central panel that is extended from the dashboard to the end of the front seat, completely separating the driver from the passenger.
Multiple controls have been added to the driving wheel while the instruments and gauges use a classical analog design.
Having no less than 5 different driving modes, the model manages to cover a wide range of expectations. Powered by batteries with liquid cooling, the life span of the energy storing unit is also extended.
Additionally, owners can opt in for the PAA upgrade for their 2015 Porsche 918 Spyder which makes it possible to adjust the car's aerodynamics.