BMW does not make ordinary vehicles. It's a unique icon of technology, an extraordinary evolution that make it the "Ultimate Diving Machine".
Recently unveiled was the 2015 BMW i8. This new sports coupe has a striking design that draws attention wherever it goes and leaves people more curios than ever.
On the street, you will be surprised to see people getting all excited and taking pictures of this vehicle.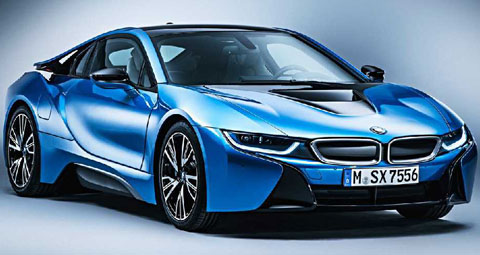 Specifications
General Info

| | |
| --- | --- |
| Vehicle Type: Hybrid Hatch | Base Price: NA |
| EV Mode Range: 23 miles | MPGe for EV Mode: 15-22 miles avg |
| Battery Gross Cap: Li-Ion 7.1 kWh | Max Total Range: 373 miles |
Performance

| | |
| --- | --- |
| Engine: 3 Cylinder TwinTurbo | Displacement: 1.5 Liter |
| Horsepower: 231 HP | Torque: 237 lb-ft |
| Electric Motor: 131 horsepower | Transmission: 6-Speed Automatic-2stage |
| 0-60 mph: 4.5 seconds | Maximum Speed: 155 mph (250 km/h) |
Engine & Performance
BMW i8 is powered by a turbo 3-cylinder engine located at rear axle. This is driven by a 6-speed automatic transmission.
The engine produces 231 horsepower and a torque of 236 lb-ft. The i8 can sprint from zero to 60 mph in only 4.2 seconds.
Exterior
At first glance, this new car appears like a sports car. However, it's more than just any other sports car. The car has a long wheelbase, precise lines, short overhangs and sweeping silhouette that give the look that this car is surging forward when it's actually standing still. Scissor doors of this vehicle provide the undeniable emotional and the sporty allure that definitely make the sports car one of a kind.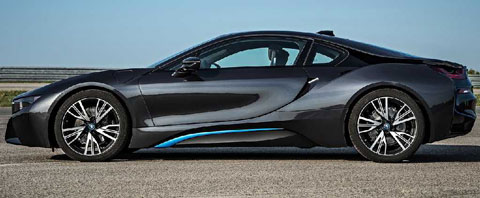 You will also find iconic the BMW 'i' accented kidney-grille is almost totally closed with some air control vents at the front allows much air as your cooling system requires.
The air flow design at the rear gives the needed down force necessary to maintain the agility while still keeping the car planted on the road at very high speeds.
Interior
The sporty feeling is also included on the inside of the car. BMW i8 focuses on the driver by angling the center console on the left. Other functions such as gear-shift level, parking brake and start/stop button are all arranged around the driver's seat for more convenience.
You will also find a 3D, high resolution display that communicates all the important driving information just directly on the car's dashboard in a very clear manner.





The extremely soft leather that has been naturally tanned by some olive leaves is also available