The 2014 Toyota FT-1 is a concept designed just for the tracks.
This performance oriented concept sports model was crafted by CALTY Design Research, which is Toyota's Design division based out of North America.
The design team embarked on this ambitious project with a clean slate and had free rein in designing this car.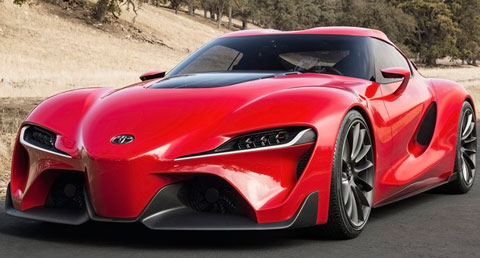 Engine
The engine will be a rear-wheel drive. The hood has a transparent glass to take a peek at the massive powertrain covered by engine cover. Toyota has not given details on the engine specification, and the current focus is on showcasing the future design language for Toyota.
The Toyota FT-1 opens clears the path for exciting and new design possibilities for Toyota cars. The aggressive design captures the excitement, passion and energy that Toyota embodies.
The design elements of this concept will allow Toyota to take cues for the future production models.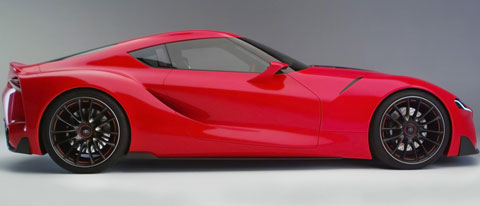 Design
The FT-1 concept embodies the excellence of sports cars from Toyota's past. In the FT-1, the designers worked on blending the old with the new. The masculine design was inspired from the Mark IV Supra.
The cabin, with a wrap around windshield and the side window opening comes from the 2000 GT. The nose of the car carries DNA of F-RS.
While the design team has received inspiration from previous models, there are plenty of new elements involved in the design to give FT-1 that give it it's own identity. The design team worked in partnership with the design team of Grand Turismo, which allowed them to build and drive the virtual FT-1 before the concept was approved.
Interior
The interior provides functional space focused on the driver. The low slung cockpit design along with deep set A-pillars allow for optimal cornering vision.
The key feature is the delta shaped color HUD display that driver gets to see on the windscreen, that allows him to keep his eyes on the road. Toyota is maintaining at this point that the FT-1 concept is just a concept. There is no word on whether this model will be in production.