The name Renault Megane is definitely not new in the auto market. The first model was launched back in 1995 and since then the Megane I, II and III have been highly popular models.
The new 2014 Renault Megane promises to continue the excellent tradition people have come to expect from Renault. It is expected to go on sale in the beginning of 2014 in Europe, and later in the year, to other countries.
Performance
The engines will essentially remain the same as the current model. You can choose from a 1.5, 1.6 and 2.0-liter diesel engines, or 1.2 or 1.6-liter petrol.
Exterior
The 2014 Megane is all about stylishness. Whichever trim you choose, the Berline, the Coupe, the Estate, or the Coupe-Cabriolet, what you find in your Megane is a sporty look.
At first glance, you will notice that the bumper and bonnet are similar and provide a sense of familiarity from the past. However, there are a number of distinctive features which make the Megane stand out.
The enticing range of body colors, coupled with the new headlights featuring gloss black eyelids, 17 inch alloy wheels and gloss black bumpers are bound to make the new Renault Megane very promising and have it rank among the top sellers in this range.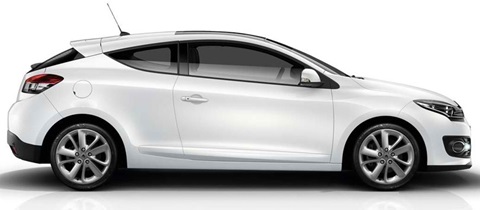 Interior
The luxurious looking interior complements the stylish exterior. There will not be significant changes to the inner control panels.
The Renault's R-Link infotainment system is included and one can opt for an upgraded audio system by Bose. There is a joystick in the center that will control all the media and information that will be displayed on the dashboard.