The Porsche 911 GT3 Series is now 15 years old. The new version 2014 Porsche 911 GT3 is faster and lighter than its predecessors.
It features a true system that steers the rear wheels which is a first for any Porsche production model.
It will feature the PDK transmission that may be unpopular with some.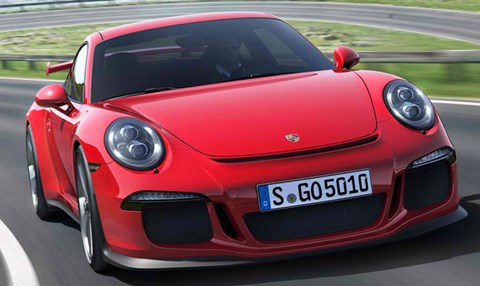 Specifications
| | |
| --- | --- |
| Vehicle Type: Coupe | Base Price: $130,400 |
| Engine: Boxer 6 | Displacement: 3.8 Liter |
| Horsepower: 475 HP | Max RPM: 8250 RPM |
| 0-60 mph: 3.5 seconds | Maximum Speed: 196 mph (315 km/h) |
Engine & Performance
A power packed 3.8 liter water cooled boxer engine under the hood produces 475 horsepower that will move you from 0-60 MPH in 3.3 seconds, topping out at 195 miles per hour. The engine is similar to the one used in the 911 Carrera S but with modified crankshaft and valve gears.
It revs to 9,000 RPMs purring like a kitten thanks to these updates and the forged pistons and titanium connecting rods. As previously stated, it comes with the PDK trans. Abundant power is sent to the rear wheels due to a new high traction rear wheel drive system.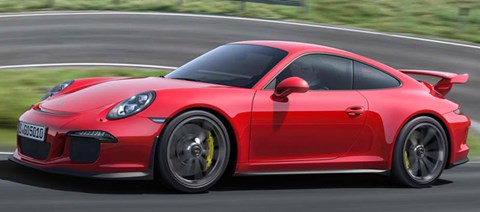 Exterior
The main attraction of this vehicle's exterior is not visible. It is the fact that the car weighs less than former models. It will be constructed of hybrid steel aluminum, the same as the Porsche 911 Carrera. However the GT3 adds an array of parts, front and rear end as well.
The GT3 will weigh in curbside at 3,153 lbs. It's overall length is just under 179 inches with a wheelbase of 97. It is one and three quarter inches wider than the Carrera. The overall width, not including mirrors, is 72 and 3/4 inches. The expected eye popping aspect of this vehicle will come from the large, elevated fixed rear wing assembly.
Interior
Inside are new Recaro sports seats. It will feature a 3 spoke steering wheel and extensively utilize Alcantara. It is believed in the near future Porsche will offer an optonal "Clubsports" interior package complete with roll cage!
The 2014 Porsche 911 GT3 is positioned to compete with the likes of the Mercedes SLS AMG GT and Ferrari 458Italia. it should be offered for sale in the U.S. towards the end of 2013. The base price will be from $130,400.