The 2013 Volvo V60 Plug-In Hybrid is one of the most innovative cars of the future, and their production will begin in the fall of 2012. Volvo has combined three operating modes within this one model to create a new ultimate car with maximum efficiency.
The Volvo V60 Plug-In Hybrid runs on electricity and diesel fuel, and the choice of three different operating modes puts the driver directly in control of their environmental footprint.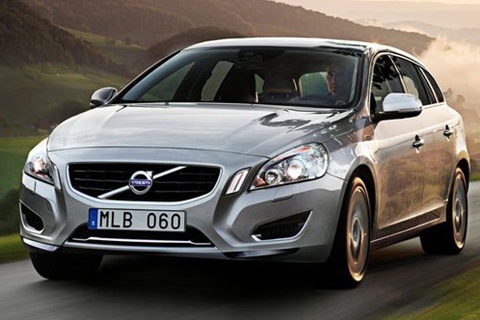 Driving Mode Options:
-The Pure Mode makes the car run almost entirely on electricity, producing no carbon emissions whatsoever. The average range of driving in this mode is up to 32 miles, depending of course upon the style of driving.
-The Hybrid Mode the car relies on a combination of diesel fuel and the electric battery, greatly reducing the amount of fuel needed to only half of a gallon every 62 miles, allowing you to drive for up to 620 miles. The car starts up in Hybrid Mode automatically.
-In Power Mode the maximum output of power from both the electric battery and the diesel fuel system are accessed to give on demand delivery of true muscle car performance. The acceleration time increases for a rate of 0-62 miles per hour in only 6.2 seconds.
Engine Performance
The engine of the Volvo V60 Plug-In Hybrid is a powerful 2.4 liter engine. This car also comes with specialty options such as electrical powered four wheel drive that the driver can activate instantly when handling mud, snow and other difficult terrain.
This Volvo hybrid has the added convenience of being rechargeable from most standard power outlets, and the charging time depends upon the amperage rate of the specific outlet used. It can take anywhere between 3.5 to 7.5 hours to fully recharge.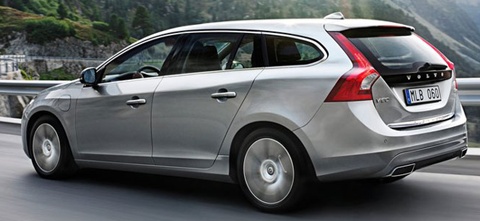 Features
Another amazing ability of this new Volvo hybrid is that it comes with a mobile phone application that allows drivers to turn on their air-conditioning and other features before they reach their car, as well as warn them when it needs recharging.
All of these features make the 2013 Volvo V60 Plug-In Hybrid the most attractive option as far as environmentally friendly cars go.
Specifications
General Info

| | |
| --- | --- |
| Vehicle Type: Hybrid Wagon | Base Price: NA |
Performance

| | |
| --- | --- |
| Engine: 5 Cylinder TurboDiesel | Displacement: 2.4 Liter |
| Horsepower: 215 HP | Torque: 440 lb-ft |
| Electric Motor: 70 HP | Transmission: 6-Speed Automatic |
| 0-60 mph: 6.2 seconds | Maximum Speed: NA |